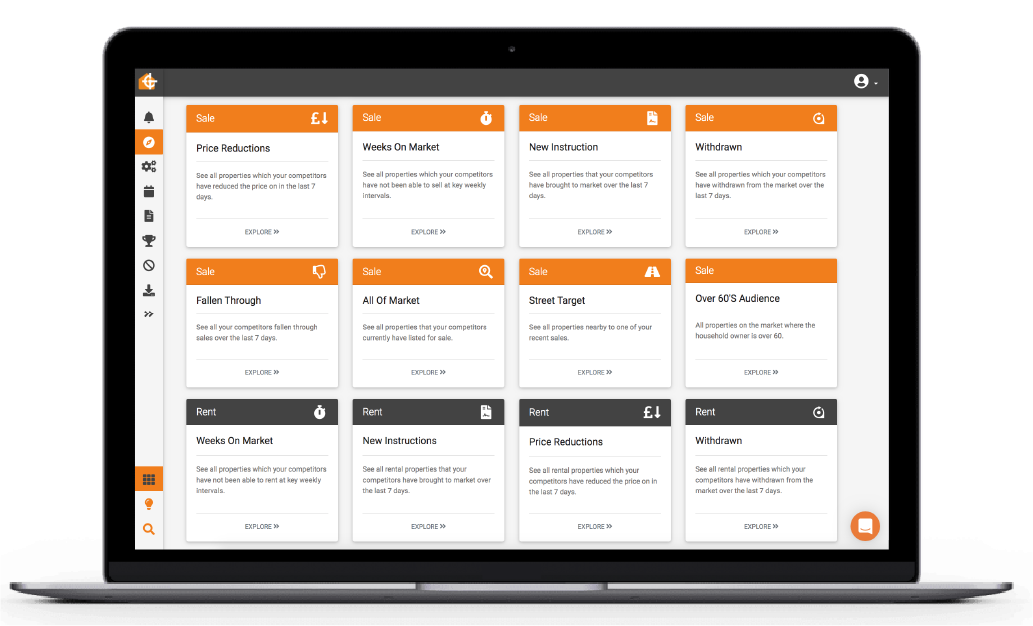 Win more instructions with Prospect
Join over 3100 branches winning new instructions daily with our data.
The UK's leading supplier of prospecting data to Estate Agents
Whole of market coverage of advertised properties, plus unrivalled full address match rates and processing speeds.

Automated
Run on full 'autopilot' with a tailored branded campaign for each audience.

Integrated fulfilment
We take care of the print and send on your behalf, in real time. Upload your own templates or use our template builder.

Conversion tracking
Be alerted of new instructions generated to track results and return on investment.
Target sellers, tenants and landlords at key points
1 out of 3 instructions that come to the market will eventually either list with multiple agents or switch agent altogether.

Sales & Lettings On Market Targeting
Build your own audiences or use our ready-made list to identify and target frustrated vendors who may be keen to switch agent in your area.
Fall-throughs
Price recently reduced
Length of time on the market
Newly instructed
Street target (20/20 campaigns)
Withdrawals
End of tenancy

Sales Off Market Targeting
Our exclusive Off Market audiences cleverly identify the properties in your area that are most likely to come to market in the next 12 months.

Download Data
Prefer to send the letters out yourself? No problem! The addresses can be easily downloaded in Excel format, or mail merged on to your templates to print in the office.
Pricing
Choose from one of our two great packages, depending on your requirements.
Features

Prospect

£15 / postcode district

Prospect +

£30 / postcode district

Sales & rental data

✓

✓

On Market audience

✓

✓

Automated campaign

✓

✓

Street target

✓

✓

Template builder for letters & postcards

✓

✓

Conversion tracking

✓

✓

Fulfilment starting at £0.40p

✓

✓

Off Market audiences

✘

✓

Download data

✘

✓

'Insight' - Market intelligence

✘

✓

'Search' - Property appraisal data

✘

✓