Last week, I joined Simon Whale, Founder of Kerfuffle, and Darren Wootton, Sales Director of TwentyEA to provide key insights into the estate agency market. In case you missed it, here are my 5 key takeaways from the Kerfuffle webinar:
Key Takeaways:
1. 2020 was very much a year of two halves when it came to the property market. In April, no one would have predicted the level of activity that we saw after the first lockdown.
We started the year with optimism as we saw the Boris Bounce throughout January & February - we thought things were on the up after the Brexit uncertainty of 2019.

When lockdown 1.0 was implemented, no-one knew what impact this would have and whether many businesses would even come out the other side.

Following the re-opening of the market, we experienced a level of activity not seen for over a decade.

In 2020 overall, Sales Agreed were up over 10% on the previous year and New Instructions were only 1.4% lower than in 2019.

Demand very much exceeded supply which also meant that we saw significantly lower numbers of price reductions and properties being withdrawn from the market.

We also saw house prices increase by 7.9% nationally, going from £347K in 2019 to £395K.

Perhaps unsurprisingly, we saw the largest increases in the South East and East of England as people looked to move out of London to bigger, more rural properties. In both regions, prices increased by over 20%!

2. The Lettings market didn't fare quite so well.
Activity within the Lettings market throughout 2020 was very different from the boom that was experienced on the Sales side.

New Instruction volumes were down 8.4% YOY and Let Agreed's dropped a similar amount at 8.3%

Price reductions and fall throughs both increased, by 8.8% and 4.3% respectively as the market softened.

The increased flexibility on commuting, meant that many people who had previously been renting in towns and cities close to their work, were now able to buy properties further out.

3. The real winners in 2020 were one branch agents, whilst Online, Large Agents and the Corporates struggled in comparison.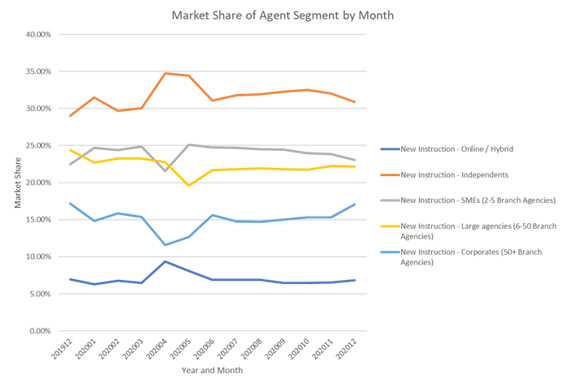 Independent, or 1 branch agencies, were the clear winners throughout the year. They saw very strong growth with NI market share up 6.4% and SSTC's by 6.5%.

Even though Online agents did do relatively well during the first lockdown as they didn't have to deal with branch closures and adjust to working from home, unlike other types of agents, they didn't see any growth in New Instruction volumes throughout 2020 and they actually sold fewer properties than in 2019. Online market share of SSTC's fell by 4.5%.

Large Agencies (those with 6-50 branches) and the Corporates (50+ branches) were the groups that lost market share over the year, with Large Agencies market share of NI's down 7.2% and the Corporates down by 2.6%.

It's also interesting that almost 350 estate agency branches closed down last year and these were mainly from SME agents – those with between 2 and 5 branches and Large Agencies. In comparison, the number of Independent agents actually grew.
4. 2021 has got off to a bumpy start with a huge drop in New Instructions, whilst SSTC's are off the charts.
Demand is outstripping supply at an astonishing rate – SSTC's are up by 17.5% on the start of 2020 (where if you remember, we were already seeing a boost to the market from the Boris Bounce)

However, New Instructions are down 20.5% on the same period.

So, if we compare that to the whole of 2020, where SSTC's were up 10% and New Instructions down just 1.5%, you can see that whilst the market is still open, Lockdown 3.0 is definitely affecting instructions.

A really interesting way to look at this is in terms of whether we're in a buyers or a sellers market.

The Property Equilibrium Index really shows us that the current market conditions are something that we've not seen in many years.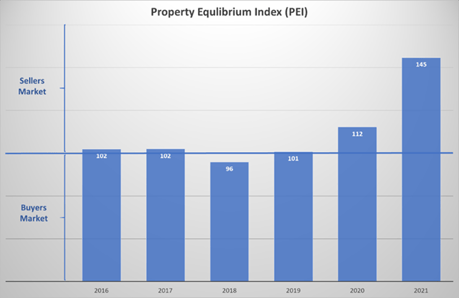 Since 2016 the market has been relatively stable in this respect, it was a slight sellers market in 2016 & 2017, then it tipped to being a buyers market in 2018 but we can see that from Q4 2020 onwards, we have really moved into a situation where in many parts of the country, there is far more stock currently SSTC than there is For Sale.
5. Agents need to take action now to ensure that their stock levels are maintained.
Hopefully the Budget measures announced this week will encourage more sellers into the market. However, after two months of such low instruction levels, agents are playing catch up.




Luckily, our unique Off Market data is a fantastic way for agents to get new leads – in fact one of our clients generates over 40% of all market appraisals using this data.

Off Market has been created by our data scientists to identify properties that are likely to come to market in the next 12 months. In fact, 73% of the properties listed For Sale in 2019 were in our Off Market model!

We can help our estate agent clients to target their marketing to only those people who are likely to want to move – getting their brand in front of potential vendors before their competitors.
If you'd like to receive regular property market updates from us, you can sign up to our exclusive Client Briefings here. Alternatively, if you'd like to find out more about our Off Market data, just drop our Sales Director, Darren Wootton an email; Darren.wootton@twentyea.co.uk.