Some agents I have spoken to believe that up to 50% of their New Instructions for Sale come from vendors who are already on the market. Whether these instructions are from vendors going on the market with multiple agents or solus agent instructions that switch to a better agent, this has always seemed like a high number to me.
Given the fact that it got my curiosity, I had our principal analyst delve into the data. The results since January 2019 show that 28.4% of Estate Agent New Instructions come from Vendors who are already or have very recently been on the market. Of these 28.4%, exactly 15% switch agents and 13.4% are multi-agent.
The staggering fact leading from this is where do the rest come from? Well the rest, if my maths is correct is a whopping 71.6% of all Sale New Instructions and they come from vendors that are currently Off Market. The chart below illustrates this…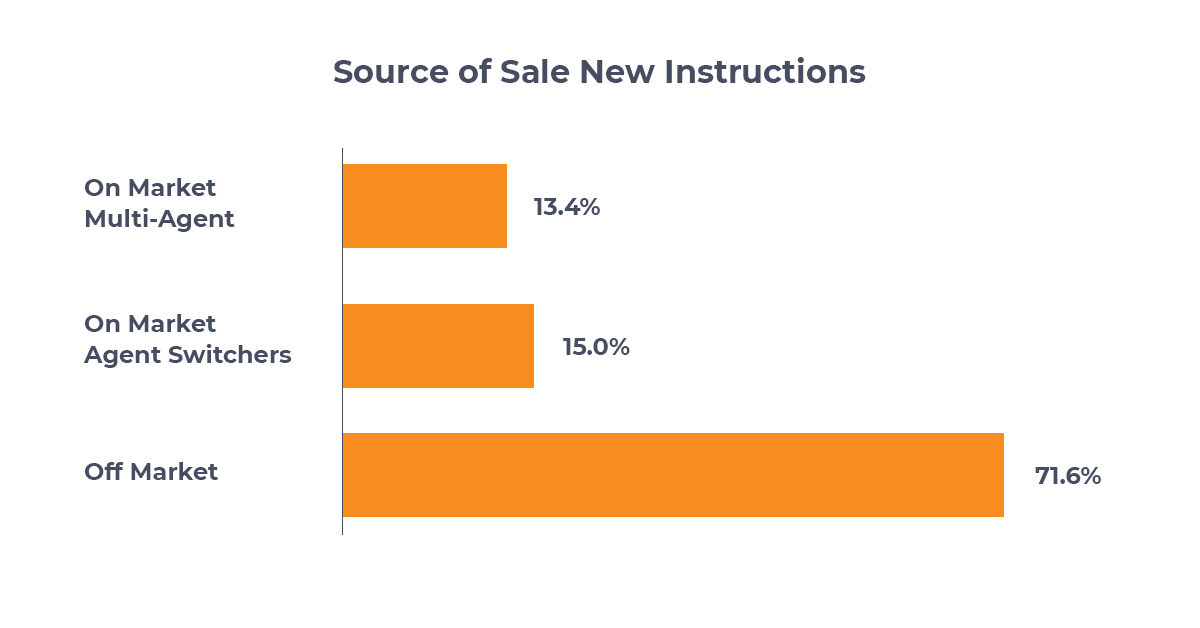 Let's think about this for a second, 72% of all instructions are currently off market – WOW!
If we then think about advertising or how to reach out to these individuals, how exactly do you do this? Thinking some more, there are approximately 1.5million properties per annum where the vendor instructs an agent. There are approximately 30.7million residential properties in the UK. So only 5% of housing stock nationally comes onto the market for sale each year.
The largest hybrid agents use TV to get to Off Market vendors for example. In fact, they use a lot of TV compared to other estate agents. But if only 1 in 20 properties come to market in any one year, does this mean the rest of this spend is wasted? As they are all national agents covering the whole of the UK, this might make sense to them. And there is clearly some benefit in building the "brands" of hybrid agents, but in my opinion, this budget could be spent more effectively with pinpoint accuracy. And what do you do if you are a traditional agent with a patch that cuts across TV regions?
Well, here at TwentyEA, our Data Scientists have the answer. We have built several Off Market models that look at the various reasons for selling a property for downsizers; upsizers and landlords. This not only uses lots of property data, but also location based, environmental and demographic data. We then use advanced machine learning techniques to bake these into a single score to tell you how likely every single residential property in the UK is to instruct in the next year.
You can access all of these properties through our marketing tool called Prospect, and find more details here.
One traditional estate agent that I know very well had to stop marketing to Off Market prospects after we filled up their diary with market appraisals for the next 4 weeks. I personally get a great deal of satisfaction from hearing that and it fills me with motivation to consistently look at ways of making the model better.
You too can compete with the Hybrids Off Market marketing by using smarter targeting through TwentyEA Prospect.