UK asking prices are higher than we saw throughout 2019, a positive sign that both home buyers and sellers are feeling confident despite the current climate. But, what about the price achieved for vendors? Despite higher asking prices, do we see vendors selling for less and offering more discount compared to recent years?
UK Property Prices
The below chart clearly shows a stark difference between asking prices and transfer prices (the price of property transactions sourced from HMLR Price Paid dataset). The median price is calculated by taking the middle value of all prices when ordered from smallest to largest. This a more robust measure for determining trends when accounting for outliers (For example, £10m+ properties in London).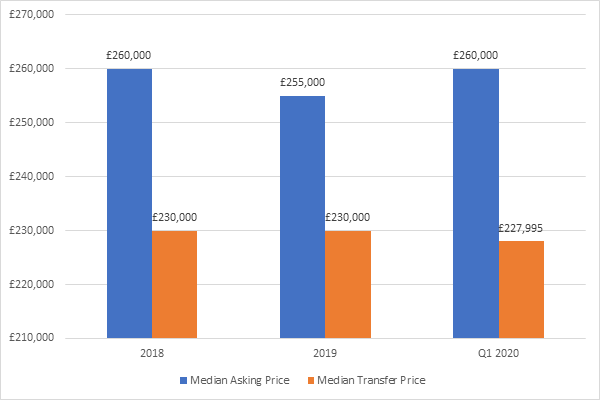 Across 2019, dominated by Brexit and the election, asking prices remained stagnant. However, things changed once the election results were announced in December 2019 producing a stable government (one with a large majority) leading to an increase in sales being agreed. This increase in demand has given rise to a delayed increase in asking prices, which we are only seeing now post-lockdown. This suggests that long-term consumer confidence outweighs how people are feeling about the long-term effects of Covid-19.

Transfer prices have also remained stagnant. In 2018 and 2019, we saw median transfers prices of £230k with a slight decline in Q1 2020, likely driven by seasonality.
Level of Discount to Property Prices
To identify the price movements for individual listings we have combined our whole-of-market view of property listings with the HM Land Registry Price Paid data.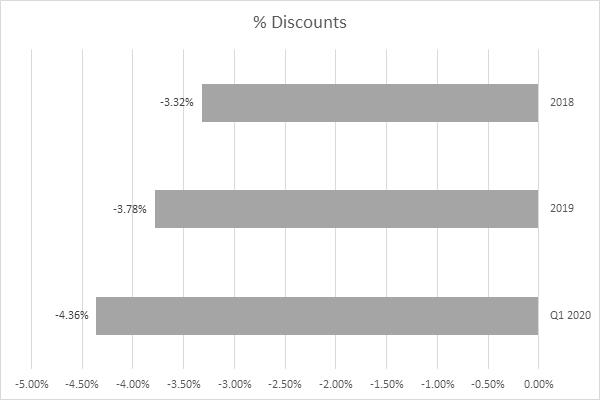 In 2018, vendors needed to give an average of 3.32% discount to sell their properties. The percentage discount increased across 2019 and into Q1 2020 which suggest vendors and Estate Agents are having a tougher time getting buyers to pay the asking price.

However, considering asking prices have in increased in the last year by 1.3%, UK houses are still selling for around £3,300 more than 2019 transactions.

We have already commented on the inflated asking prices seen since the English market re-opened, this must either lead to a greater percentage of discounts to the initial asking price or inflated property values for completed transactions. We of course have to wait to see how the market performs throughout the rest of 2020.