We've talked a lot about the ongoing stock shortage, mainly focusing on how long it will take for agents to run out of listings if the market continues on its current trajectory. This time we're looking at the here and now and analysing what the current market looks like compared to previous years.
We're starting to sound a bit like a broken record but unfortunately, it's not good news! It's clear that although there is still some stock coming to market, the types of properties being listed and the length of time it's taking for them to sell has changed significantly and these are not trends which will help to rebalance supply and demand levels.
At the start of 2022, there were only 275,000 properties For Sale and 150,000 To Let. In terms of the sales market, these were the lowest volumes of property stock for sale since our records began in 2008. Similarly, in the same time period there has only ever been one other month with less rental properties available.
December 2021 also saw the lowest number of new instructions to both the sales and lettings markets for any December for the previous six and three years respectively.
Outside of London, available stock of properties For Sale in January 2022 has fallen by 43% in the two years since January 2020, before the pandemic hit.
In terms of the types of property that are on the market, the stock numbers of all property types have fallen. However, proportionally, there are now far more flats on the market than there were before.
At the start of 2020, flats made up 21% of all residential property For Sale and this figure has risen to 31% at the expense of all types of houses, but predominantly detached and semi-detached houses.
The changes to the proportions and the percentage of stock in 2022 compared with 2020 are represented in the graphic below:

This means that whilst stock overall has fallen by 43%, if you are looking to buy a detached house, available stock has fallen even further by 53%.
Therefore, it's no surprise that we're getting reports from agents across the country that whilst requests for market appraisals have remained strong throughout January, conversion rates in seeing those properties going on to list are lower than ever. It's clear that whilst many people still want to move, they are holding off putting their home on the market because they can't find anything they want to move to. When properties do come to market, they are selling in record time and often for well over asking price.
At the start of 2020, almost two-thirds of property for sale had been on the market for six months or more. By the start of 2022, the comparative figure is 18%, with 47% of all for sale stock only listed in the last 0 to 2 months.
The following table illustrates this: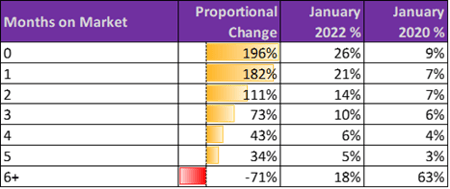 The North East and South West are the regions most badly affected. In fact, in the South West where there might have been 10 properties to choose from if you were looking for a detached house between £250K-£350K in January 2020, now there would only be one and it would likely be sold in a matter of weeks if not days.
It's clear that this situation is unsustainable and is leading to a steady increase in house prices whilst demand massively outstrips supply. However, the only way it can be fixed is by more properties coming to the market which is unlikely to happen whilst there is nothing available to buy.
Is it therefore time for the Government to step in and once again use a Stamp Duty cut in order to boost the market? If so, we've learnt over the past 18 months that a short-term solution is likely to only cause further problems down the line so if they do make changes, they would need to involve a permanent reduction in, or complete abolition of, Stamp Duty rates. Only time will tell if that's a move they are willing to make.
--------------------------------------------------------------------------------------
For more information, or to learn more about our property market insights, then please contact Katy Billany, (Our Executive Director for Estate Agency Services) at katy.billany@twentyea.co.uk.