If things continue as they are, we'd expect September's property transaction volume to climb to heights that we've never seen before in the UK. But is this likely to happen?
What does the forecast suggest, and what factors are at play in the answers to this question?
UK Residential Transactions: A History
The following chart from HMRC illustrates the volume of UK property transactions over time. Looking at this over a wide timeline (since 2005) helps us to put recent events into context.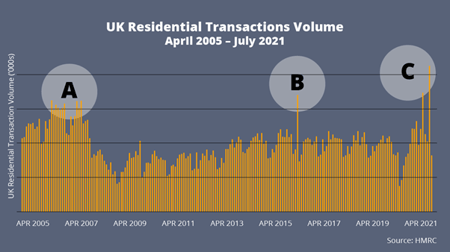 Let's take a look at the peak areas and consider what drove these high property transaction volumes.
A: This is prior to the 2008

global financial recession

(credit crunch). Typical property transaction volumes at this time were exceeding

150,000

per month.
B: March 2016, when higher stamp duty land tax came in for second homes. This is the 3rd highest month in this period with 171,000 property transactions recorded.
C: The impact of the recent

stamp duty holiday

, which sees the highest and second-highest month recorded.

There were 174,000 UK property transactions in March 2021 when the UK stamp duty holiday was due to end.
There were 213,000 UK property transactions in June 2021 when the stamp duty land tax tapered off from a maximum saving of £15,000 to a maximum saving of £2,500.
So, we can clearly see what happens to property transactions when substantial savings are available for property buyers. The lower stamp duty land tax saving is due to finish at the end of this month. So will we really see transaction volumes above the record amount?
UK Property Transactions In Progress
Of course, property transactions take time to complete so we can take a look at those already in progress. Sales agreed that have not yet completed or 'in flight' transaction volumes can give us a really good insight into how things will look at the end of the month.
So far, analysis of 'in flight' property transactions suggests that September's property transaction volumes could be as high as 286,000.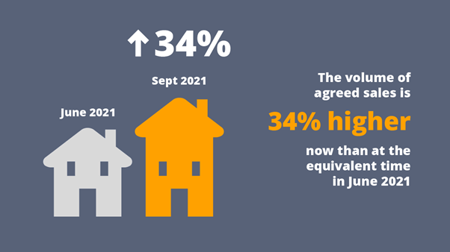 That's a whopping 34% higher than June 2021, which was the previous peak.
Why are Predicted Property Transaction Figures for September 2021 So High?
At the close of September, the potential savings from the Stamp Duty Land tax holiday are much lower than they were at the end of June. So why is this peak expected to hit the property market now?
In straightforward terms, it's down to when the highest number of sales were agreed. There just wasn't enough time to get these all completed by the close of June, and many of these will have been pushed forward.
September 2021: Are 286,000 UK Property Transactions Really Possible?
So, will we really see 286,000 UK property transactions in September? Realistically, probably not.
June was incredibly busy and most conveyancers, lenders, surveyors and removers were at or near capacity. A 34% increase in property transactions would simply be near impossible for the industry as a whole. Nevertheless, September does still have the prospect of being higher than June.
Such a busy time for the industry does present some exciting opportunities. Along with increased property transactions come increasing sales in retail, telecommunications, financial services, utilities, automotive and removers.
Those who really capitalise on this opportunity are those who understand the market and how to contact this plethora of home movers. That's something we can help you to excel at! With the right data, you can contact the right people at the right time in their home mover journey.
Busy times lie ahead for the UK property industry. We will of course update you in due course about September.
For more information, or to learn more about our property market insights, then please contact Katy Billany, (Our Executive Director for Estate Agency Services) at katy.billany@twentyea.co.uk.