The volume of property stock available in the UK has reduced by a third in the past year. This time in 2020 there were 630,000 UK properties for sale. Now there are only 400,000. This is quite a striking reduction and it has begun to cause alarm. If this trend continues, we could be left in a situation with no property left to sell, resulting in the market grinding to a halt.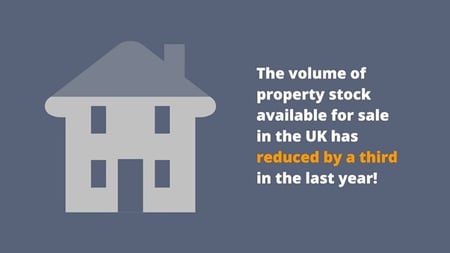 This is a worst-case scenario but one that would have concerning repercussions for the entire housing market. We set out to discover just how long it would take the UK to completely run out of property stock if things don't turn around.
The Great Property Stock Shortage: Stock Movements Nov 2019 - 2021
It is impossible to avoid the fact that available property stock is clearly reducing. Comparing available properties for sale in Nov 2020 with 2021 shows a reduction across all UK regions.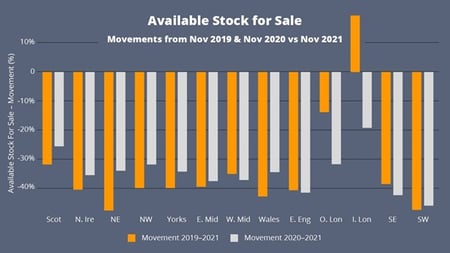 The worst-hit region is the South West, where the number of properties for sale has plummeted by 46% in one year.
When we make the same comparison with 2019 figures, we see there is a reduction in all regions except inner London.
This paints quite a bleak picture of current property availability trends. If things continue in this direction, eventually there will be no property available at all. So, just how close are we to completely running out of property availability?
How Long Until Property Stock Runs Out? The Winding Down Model
We created a model to predict how long each region will take to run out of housing stock completely. Using the current stock and predicted net inflows and outflows, we are able to model the possible future property availability levels per region.
Method:
For each UK region, we observed the actual available stock of properties for sale at the start of December 2021.

To calculate the volume of new property coming to the market (stock inflows), we averaged the volume of new for-sale properties over a three-month period from September 2021 to November 2021.
To calculate the volume of stock outflows, we averaged the volume of sales agreed and the volume of withdrawn properties over the same three-month period.
Results: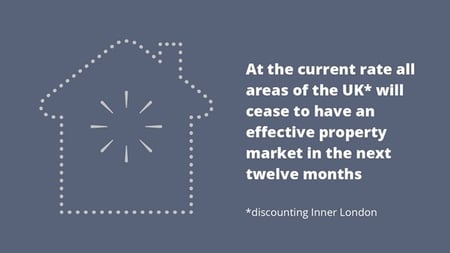 If the market continues to perform in the same way, most UK regions will have absolutely no properties to buy within 12 months.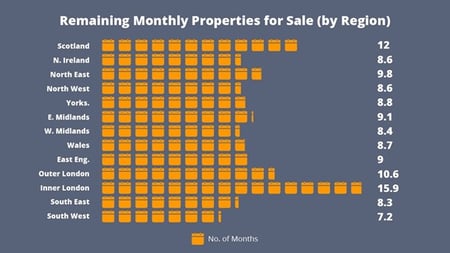 The first area to run out of property stock will be the South West. There will be nothing available to buy here by the end of June 2022.
The only region with property left in 12 months will be Inner London, which will run out of properties to purchase by the end of March 2023.
Why are There so Few Houses for Sale in the UK in 2022?
At the moment, there is a shortage of UK property because the market is stuck in a vicious cycle. The ongoing impact of the pandemic has caused some huge changes to the way we live and work, and this has all affected the property market.
High demand and low supply have led to price increases, and affordability is a challenge for many. What's more, whilst people can't find a property that meets their needs, they won't list their current property for sale. The shortage of properties makes it less likely for people to find a desired home to move to. This stops them from listing their own property for sale, and the issue gets worse.
Is The House Market Going to Crash in the UK?
If the scenario modelled above was to play out, the housing market would not be able to operate. In truth, it's unlikely that this very desolate situation will come to pass, but there is only limited time left to turn the tide.
Under normal circumstances, high demand coupled with low supply causes price rises. The market re-adjusts to find equilibrium. But affordability is a problem. The price rises required to find this balance and retain market stability may not be sustainable.
What remains to be seen is how this downward spiral can be stopped. What we do know for sure is that something needs to change, and fast.
--------------------------------------------------------------------------------------
For more information, or to learn more about our property market insights, then please contact Katy Billany, (Our Executive Director for Estate Agency Services) at katy.billany@twentyea.co.uk.