Let's start by talking VAR.
A small apology to non-football fans, and football fans alike who are already bored of VAR, but to contextualise how VAR might have some relevance to Estate Agents, We need to mention footballs hottest topic for a moment.
You may have listened to the excellent Monday Night Club this week on BBC 5 Live, and heard the presenter and contributors get into the usual discussion about when the Video Assistant Referee is used, was it applied correctly, did the contributors agree with the application etc.
As you'd expect there were a host of opposing opinions and only when an ex-referee got involved did the discussion start to take real shape and boil down to two types of decision:
Subjective decisions based on interpretation – Did the player dive, was it a foul, was it a penalty?
Decisions based on fact – Was a player offside, did the ball strike an attacking players hand whilst in the opponents' penalty area?
When listening to this debate I started thinking about Estate Agents and the oft heard claim, 'we're the best'. What does it mean to be the best? What might these claims be based on?
To claim to be the best, an agent might be thinking 'we have the best position on the high street', 'we've got the biggest and best window display', 'we have the best branding', 'my photography is better than anyone else' or 'I have the best sales and support team'. This is not exhaustive.
What is the common theme of all the above? These conclusions are all subjective and based on opinion. Different people could end up with a different answer.
What about claims based on facts?
Is there only one agent that can claim to be the best or are there multiple ways to interpret this whilst still being factually correct?
To answer this question, I've looked at data within TwentyEA Insight, viewing the top 20 high street agents in the South East, by volume of instructions in the last 12 months. I've removed the names of the agents but all the below is real world data.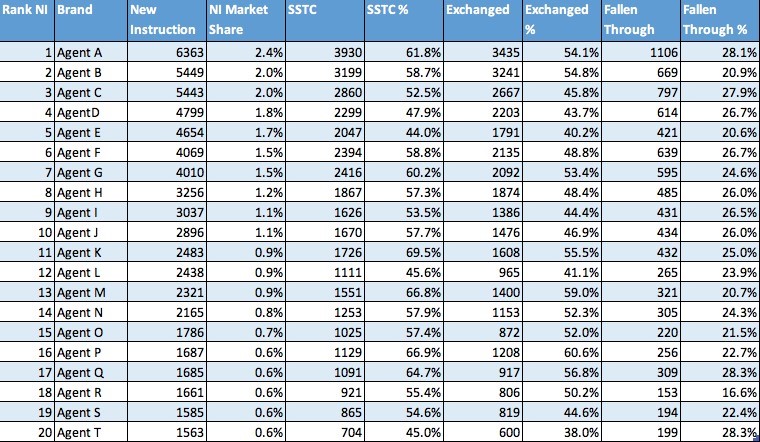 So, who can claim to be the best agent? Let's ask a few questions that could be pertinent to a seller and posed to an agent.
Who has the most property to sell and therefore likely to have the largest database of applicants?
As the table above is ordered by new instruction volume then of course this is Agent A.
If a potential seller asked, 'How likely are you to find me a buyer?'
Whose shoes would I want to be in? I'd want to be Agent K who could demonstrate that they are more likely to agree a deal than the other Top 20 agents; 69.5% of their instructions convert to SSTC.
Of course, Agent A might want to make the point that they agree more sales than anyone else by volume.
If you find a buyer, how good are you at managing the sale and ensuring I exchange contracts?
In this scenario I think I'd want to be Agent M or Agent P with 59% and 60% of their instructions resulting in an Exchange of Contract.
Another way to answer this question might be to understand the fall through rates; Agent R having an impressively low 16.6% fall through rate. Once this agent has secured a deal they're more likely to make it stick.
Are you going to sell my house the quickest and achieve the highest value?
This is a little tease as it will be the subject of my next blog post - watch this space.
In summary
As an Estate Agent, if you want to have great factual data for marketing campaigns or to be able to answer the testing questions that you could be hit with on a market appraisal, TwentyEA Insight can prove invaluable and take away any doubt.
Think of it as VAR for Estate Agents.