Does a virtual client viewing increase the chance of a property letting or sale? We've been involved in an exciting new trial to find out, and the results are eye-opening for the property industry.
The Headlines on Virtual Viewings
70% of successful lets within a trial had guided virtual viewings

66% of these tenants let the property without a physical viewing
This represents a 90% cost saving for Estate Agents
Let conversion rates increased by 8.5%

Sale properties had increased conversions of 19.4% with a guided virtual tour


On average, vendors sold their property for 5.62% more money when a guided virtual viewing was available
Technology in the Property Industry is Behind Other Industries
The property industry is lagging in terms of technology, especially when we compare it to other industries. Let's take retail for example. In recent times, the retail industry has experienced a dramatic shift due to technology.
Our shopping habits have changed, with shoppers moving from the high street to online in droves. It was suggested that the death of the high street was likely by as close as 2030, and the pandemic has only accelerated its demise. Online retail sales growth just hit a 13 year high in 2020.
Online shopping in 2021 is fast, effective and convenient for busy consumers. It's certainly something we all relied on during the recent lockdown periods. These days, it's hard to imagine a world where we can't order almost anything we need online.
Conversely, the process of buying or renting a home has remained largely the same for a long time. In fact, this is exactly why we created our sister company, View My Chain. It exists to provide agents with a complete current picture of a property chain so that they can better inform their customers and speed up the progression of sales.
So why doesn't the property industry have a set of online tools for improving the process of buying or renting a home? With the capabilities of new technology, homebuyers could even do this in their own time and at their own pace. Buying or renting is a complex process that costs thousands of pounds, but there is plenty that technology can offer to improve things for buyers and estate agents alike.
The industry is often criticised for being outdated when it comes to technology. Right now, for example, 360° content penetration on listings portals is approximately only 5% on sales listings. It is close to 0% on lettings listings. Things need to change, and this recent trial has produced some rousing results.
What Are Guided Virtual Viewings?
A virtual tour is when an agent carries out a specific tour of a property for buyers online. The agent will show them around the property on a computer screen. It is like a physical tour, but you don't need to leave your house. In fact, both the prospective buyers and the agent are remote.
This is different from simply adding 360° content to a property listing. A virtual property viewing can be interactive and personal. Estate agents get a chance to answer questions, highlight key property features and build up a rapport with prospective buyers. Buyers and agents save travel time, and this can be really valuable for busy house hunters who have multiple viewings to juggle. Ultimately, they are good for customers and agents alike.
The Trial: What Did We Do?
One of our clients recently tried out guided virtual viewings with a few estate agent brands. They wanted to know if guided virtual viewings made a difference. So we did an experiment and put people into two groups: one who took part in a virtual viewing, and one who did not. We found that people in the guided-viewing group were more likely to buy or rent the home than those in the control group.
The results were staggering. We think this is important information and we asked for permission to share it. We are an independent company and have no hidden agenda beyond providing the information.
Guided Virtual Viewings for Letting: The Results
Here are the key results for the lettings trial: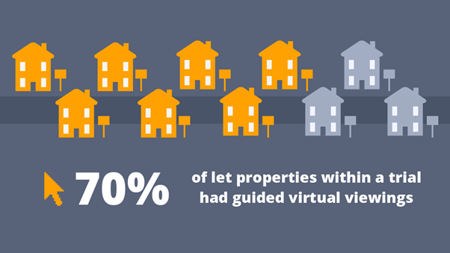 Nearly 70% of lets took place after at least one guided virtual tour of a property.
2/3 of these tenants let without a physical viewing of the property at all.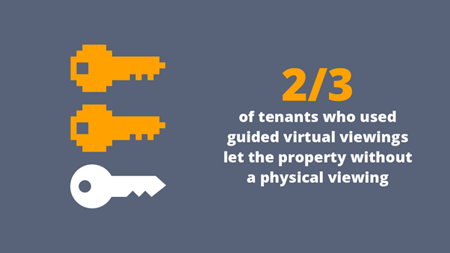 This means that there is a lot of time saved. The agents can show the homes without a physical viewing. They save 90% of the time that would have been involved in showing people around the properties.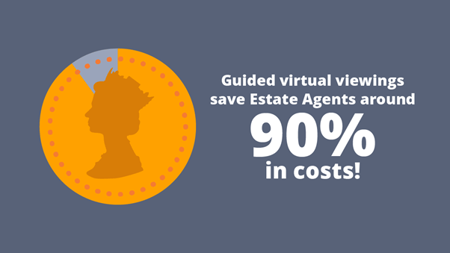 It's clear that agents can let more properties by using guided virtual viewings. But do they perform better than listings without virtual tours?
The answer is yes. Listings with guided virtual tours available had let rates which were 8.5% better than those without guided virtual tours.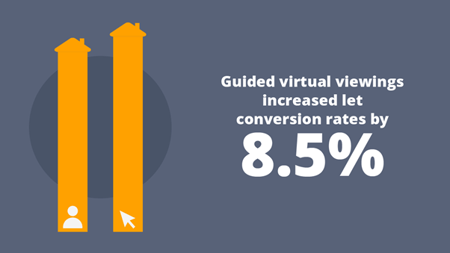 Guided Virtual Viewings for House Sales: The Results
Virtual tours for homebuyers are different. Buyers use guided virtual viewings to narrow down their property choices. The agent on average showed 2 houses per session. Anecdotal feedback says that this process will get rid of the people who are not serious about buying your property.
Here are the key results for the sales trial: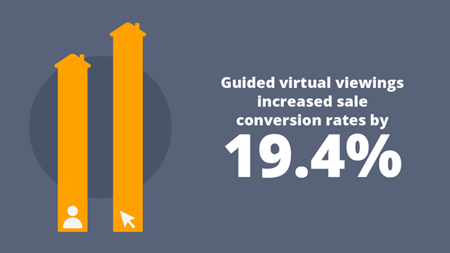 Listings with the tour available and used, sold at rates which are 19.4% better than listings without a guided virtual tour.
On average, listings with guided virtual tours sold for 5.62% more money

than listings without.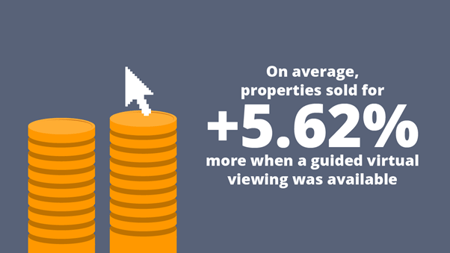 Essentially, virtual viewings increase the number of viewers. More people in the funnel means more interest, which can lead to a higher chance of getting a sale and more competition on price.
What Does This Mean for the Property Industry?
In short, we believe these findings represent a step forward for the industry.
If this technology had been available at the time of lockdown 1.0, more branches would have remained open. Of course, the pandemic escalated the need for virtual solutions. But we did not give you this information so that it can work if there is another lockdown. We're thrilled to share these findings because we think that it represents a positive breakthrough for both the customer and the Estate Agent.
What Does This Mean for Homebuyers?
The trial was a very positive experience for customers. As a measure of customer satisfaction and growth predictor, the client's virtual viewing tool was rated with a Net Promoter Score (NPS). It scored 52, which is regarded as excellent by the source of the NPS system, Bain & Co.
So the introduction of virtual viewings across wider parts of the industry would be a welcome progression for homebuyers. The lockdown has made us realise how important our digital services are. Now people know that they want to do more with these services, and we believe they are here to stay.
For more information, or to learn more about our property market insights, then please contact Katy Billany, (Our Executive Director for Estate Agency Services) at katy.billany@twentyea.co.uk.