We have published the latest edition of the TwentyEA Property & Homemover Report powered by TwentyCi, providing a comprehensive review of the UK property market, created from the most robust residential research and property change sources available.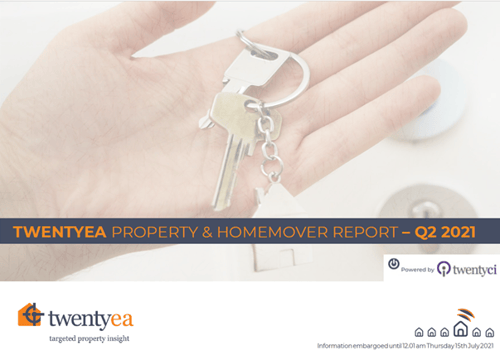 Our report provides a real-time review of the UK housing market in Q2 2021, covering 99.6% of all sale and rental moves. This property market analysis and state of the nation report provides unique insight into the people behind the numbers, creating a picture of the demographic, regional and socio-economic factors impacting the UK housing market, including:
Factual data (not modelled or sentiment-based)
Full market coverage
Demographic overlay
Property sales data
Property rental data
Report highlights
Regions

– The South East region has grown agreed sales by in excess of 47% since Q2 2019, which is a compound annual growth rate of over 21%
London

– Although demand was significantly impaired at the start of the pandemic, 2021 has seen a strong return
Property Types

– The demand for detached houses and flats has been significant with compound annual growth rates of 20% per annum since 2019
Property Value

– The momentum within the property market is being driven by those who can afford higher value properties
Stamp Duty Holiday

– Over one million properties completed during the Stamp Duty holiday up to the end of June. In the final week of the Stamp Duty holiday (at the £500,000 threshold) there were 78,000 property completions, four times the usual weekly volume
The Lack of Stock

– Aside from London, the whole of England and Wales at a regional level has between 2 and 1.7 months of property stock left to sell
Retail Lifeline

– The number of households in the home moving journey is up by over 40% since Q2 2019 with an additional 500,000 households entering, progressing, or completing the process of moving fuelling a potential additional 3% GDP per annum

Intrigued to know more? Why not contact Katy Billany, (Our Executive Director for Estate Agency Services) here.