We have published the latest edition of the TwentyCi Property & Homemover Report, providing a comprehensive review of the UK property market, created from the most robust residential research and property change sources available.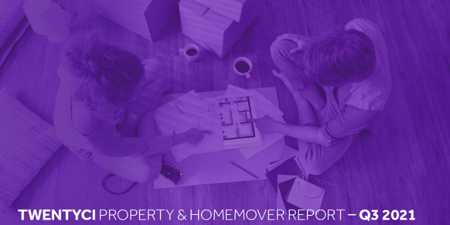 Our report provides a real-time review of the UK housing market in Q3 2021, covering 99.6% of all sale and rental moves. This property market analysis and state of the nation report provides unique insight into the people behind the numbers, creating a picture of the demographic, regional and socio-economic factors impacting the UK housing market, including:
Factual data (not modelled or sentiment-based)
Full market coverage
Demographic overlay
Property sales data
Property rental data
Report highlights
Sales Agreed

–

Momentum within the Owner-Occupied sector is maintained. Sales Agreed for Q3 2021 are up over 16% compared to Q3 2019.

The Lack of Property Stock

–

In Q3 2021 there have been nearly 40,000 fewer properties placed up for sale compared to Q3 2019. On average there is now only 2.2 months' worth of stock available across the UK.

The Waitrose Effect

–

Property prices are like for like higher within a close proximity to a Waitrose store, however, recent activity shows that property prices are rising at a greater rate away from these stores. Newly instructed homes further away from a Waitrose store are selling at a higher rate than homes near a Waitrose.

Hybrid/Online Agents

–

Their market share now stands at 8.3% with no significant consumer shift to the onlines during the pandemic.

Retail Lifeline

–

Nearly 1 million households are about to move or have only recently moved fuelling a potential additional 3% GDP per annum.



Intrigued to know more? Why not contact Katy Billany, (Our Executive Director for Estate Agency Services) here.