As a homebuyer, finding the perfect property is always a challenge. This becomes increasingly difficult when there are limited properties on the market. In the current climate, property demand is high and supply is relatively low, causing a UK property shortage. If this is left unchecked it could be damaging for the property industry as a whole.
Property Stock Availability Across the UK
Right now, there are just 2.2 to 2.4 months of property stock left to sell across England and Wales. These figures exclude London, a current outlier which will be analysed in more detail later. This is down by around half when compared to historical norms. So the choice is limited for buyers, and sales opportunities are diminishing for estate agents.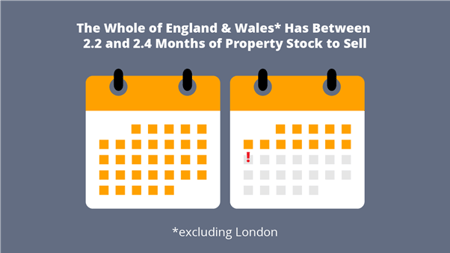 After our recent analysis of supply vs demand in the UK property market, it's clear that there is currently a supply problem. If demand continues as it is, available property levels will reach dangerously low levels and the industry will suffer.
Regional Property Stock Levels
Of course, the levels of property stock available differ across the country. Here's a breakdown of property stock levels across the UK by region: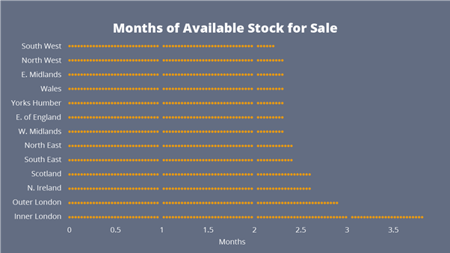 When we compare this with historical data, these property stock levels are around 50% below the norm. So essentially, there's a vastly reduced choice available on the market in the majority of UK regions.
Let's take a look at what this actually means for potential buyers. By narrowing this down to a specific area we can explore the problem in a more realistic way.
The NR postcode area (Norwich) has just 2.1 months of stock left
The NR5 postcode district is the worst affected area of the country and has only 1.1 months of stock remaining
Now imagine you're a buyer in Norwich looking for a specific number of bedrooms, property style and price range
This narrows the availability to weeks or days worth of property stock
Even if you happen to find the home of your dreams, it could be snapped up before you have time to act or you could find yourself priced out by other desperate buyers making offers well above the asking price
In fact, there are 530 districts in the UK with a stock level of fewer than 2 months. So the above scenario is a reality across large parts of the UK. The map below illustrates the current property stock levels across the UK: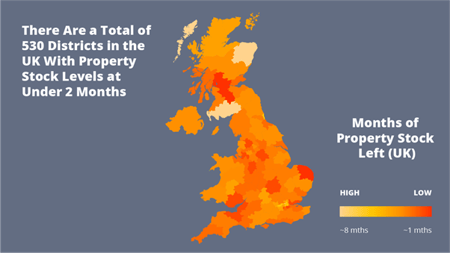 Parts of London, Aberdeenshire and the Outer Hebrides have the greatest property stock levels, so this is where you have the luxury of choice at the moment. Across the rest of the UK, trying to buy a property is like walking into a supermarket and finding out the shelves are not fully stocked. In some cases, the shelves are practically empty.
Property Stock Availability in London
London is a current outlier, as property demand is lower overall.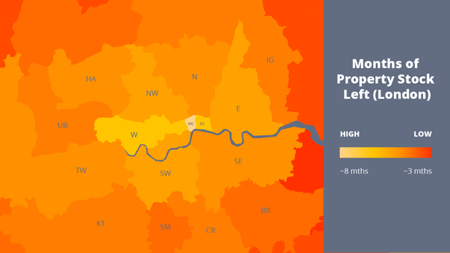 Areas on the outskirts of the city, such as Romford and Dartford are experiencing low levels of property stock. Central areas have relatively high property stock availability. West Central London (WC) has the highest level of availability. Currently, there are 8 months of property stock left in this particular area. This is a stark comparison with the rest of the UK.
What Impact Does This Have on the Industry?
When a potential buyer is faced with this type of property shortage, there are a few things they can do:
Compromise on their property choice, but still buy a property
Change estate agent (yet still be faced with the same problem)
Postpone the purchase of a property
Stay in their current property and make home improvements
None of these scenarios are beneficial to estate agents. Even if a buyer does compromise and buys a different property, this will only displace another buyer. This type of win is short-term. In the long term, estate agents need a strong supply of sellable properties available on the market as well as buyer demand to operate a thriving business. After all, no business can thrive if they have no stock to sell. In the current conditions, it's more important than ever for estate agents to be competitive in order to simply survive.

Why is Property Stock Running Out?
So, why is there more demand for property than supply at the moment? There are a number of factors contributing to this problem:
Stamp duty holiday: of course, the bid to boost the housing market by

extending the stamp duty holiday

has had the desired effect of encouraging housing purchases. So why is there such an imbalance between buyers and sellers?
A move away from inner London: as we can see, there is a pocket of available property in London. As people choose to move away from inner London due to less reliance on location-specific work and potential concerns about living in a crowded area, this places extra demand on more rural areas.
Family friction:

divorce rates are increasing around the world

, fuelled by pandemic stress and extended time in close proximity. Split families force a need for more housing.

An end to the mortgage crunch for first-time buyers: low deposit deals are back on the table, allowing

first-time buyers with small deposits on to the property ladder

for the first time since the pandemic took hold.
These are just some of the key factors at play, and there are likely many more having an impact on the current UK property shortage. The issue in itself has the potential to cause a downward spiral, discouraging homeowners from listing their property because there's little of interest on the market for them to move to.
Why is Property Stock Running Out?
Of course, there are a lot of macro-environmental factors at play so it is beyond the role of estate agents to address this issue alone. But there are things that proactive estate agents can do to improve their situation.
The best approach estate agents can take is to actively target properties that are not currently on the market but have a high propensity to be listed. This is a much more cost-effective way of encouraging new instructions than blanket mailing, and in such a market every competitive edge is crucial.
So, how do you identify such properties? Essentially, with access to the right data. TwentyEA's Likely to Instruct Off Market model correctly predicted over a 12 month period nearly 80% of instructions that have subsequently come to market*. This saves smart estate agents time and money and wins them more new instructions than the competition. Encouraging homeowners who are at the right stage in their property lifecycle to consider selling their home is a step in the right direction for the industry as a whole.
If you would like to know more about our Off Market Targeting Solutions, then please contact Katy Billany, (Our Executive Director for Estate Agency Services) at katy.billany@twentyea.co.uk.
*In the 12 months to February 2021, TwentyEA's Likely to Instruct (LTI) model correctly predicted that 79.3% of instructions would come onto the market based on the top 3 deciles of LTI. On average, in order to reach these 79.3% of households, you would have had to target just 30% of residential properties in your area.