Whilst the property market has been in a concerning state, January 2022 is showing signs that things may be picking up.
Although our models predicted that the property market in the UK was close to grinding to a halt, the latter part of January has provided hope that the supply problem could be turning around.
Initial analyses show improved property supply and whilst demand is still strong, the balance is returning. Here's how January 2022 played out.
Property Sales Market Summary: January 2022
Below is a comparison of the new instructions and sales agreed for January 2019 - 2022.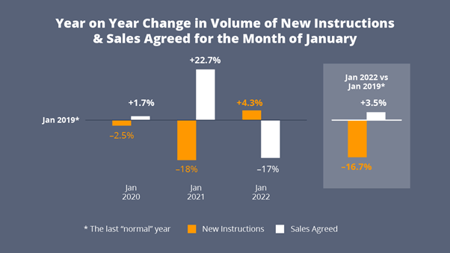 Property Supply Levels
Instruction volumes (supply) are up 4.3% on 2021
Supply is down almost 17% compared with January 2019
As 2019 was the last 'normal' year for the UK property market, this is a useful comparison. Whilst things are improving compared with recent performance, supply is still a long way off what we'd consider being normal.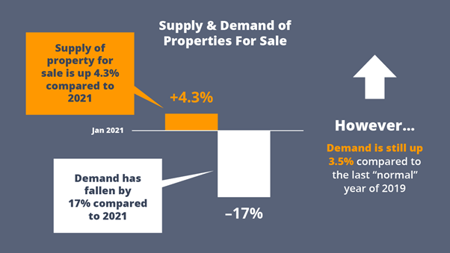 Property Demand Levels
Demand volumes have fallen by 17% compared to 2021
This gives us an early indication that supply and demand are beginning to return to something closer to their usual balance. Historically, demand is c.75% of supply. In January 2022, demand as a percentage of supply was 79%.
Property demand is also up 3.5% compared to January 2019, the last 'normal' year we have to measure against. This is a positive sign for the industry. Whilst the economic outlook may be bleak, continued strong property demand is reassuring.
New Instruction Volumes: A Time Series
The chart below shows a time series of instruction volumes on a 7 day moving average.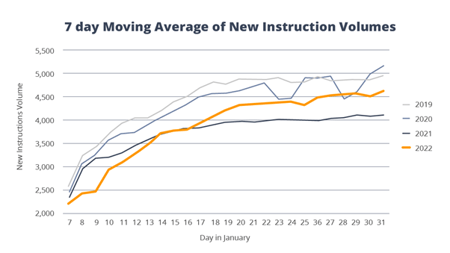 The thick, orange line clearly illustrates the low supply volumes at the start of the year. However, we can see that by mid-month, daily volumes start to rise and overtake those of 2021. We haven't quite reached the levels seen in 2019 and 2020, but the market appears to be moving in the right direction.
What Type of Property is Coming to Market?
In January 2022, the property coming to market is around 16% more likely to be flats. Today, 27% of all property listed for sale in the UK is flats.
Where is the Property Located?
New property coming to the market in January this year is much more likely to be in inner London than it was in 2019. There's much less likelihood of new property on the market in the South West.
So, there are winners and losers in the current market. Those looking for a flat in London will have plenty of variety. Buyers looking for a house in Bristol, for example, may still have difficulty finding what they're looking for. But overall we're seeing progress in the right direction for the market as a whole.
Letting Market Summary: January 2022
Let's move on to examine the volumes of new instructions and lets agreed in January 2022. Again, we'll compare with the data for the same month, going back to 2019.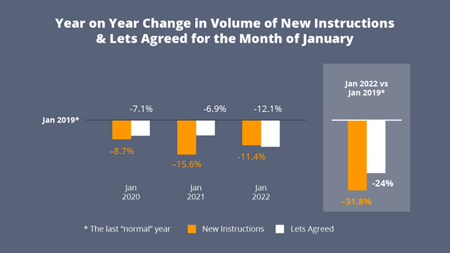 Property Demand Levels
In terms of supply in the UK lettings market, things aren't looking so good.
New instruction volumes continue to fall by over 11% on the previous year.
Volumes are almost 32% down on the last 'normal' year, 2019.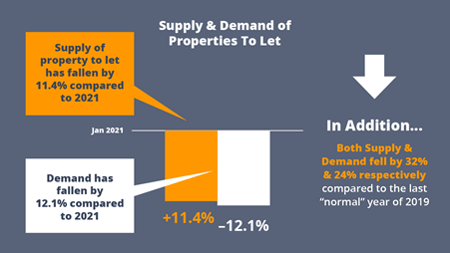 Lettings: Demand Levels
Demand volumes have fallen by 12% compared to 2021.
Demand for lettings is down 24% vs 2019.
The positive we can take from this is that demand is dropping slower than supply. So, whilst it isn't as strong as it was, it's still a good sign.
January 2022: The Outlook for the Property Market is Encouraging
What we've seen so far is promising. Although there are still plenty of obstacles to overcome, like potential property type and location bottlenecks, the bigger picture indicates a market that's returning towards the normality we once knew.
We may not have weathered the storm quite yet, but there are certainly glimmers of sunshine. The UK property sales market is showing us signs of hope for a buoyant 2022. But whilst these early indicators are positive, things can change quickly. We'll be keeping a close eye on the developments over the coming weeks and months, as always!
--------------------------------------------------------------------------------------
For more information, or to learn more about our property market insights, then please contact Katy Billany, (Our Executive Director for Estate Agency Services) at katy.billany@twentyea.co.uk.