It's what we've all been waiting for, although I think it's fair to say that it still came as a bit of a shock! After the disappointment at the start of the week that there was no reference to the property market, either in Boris' speech on Sunday or the 50 page document published on Monday, suddenly on Tuesday evening came the news that the market could re-open.
I think it's fair to say that 'getting back to work' will be done with the utmost consideration for the safety of agents, vendors and viewers and there are some parties that believe that the restrictions have been lifted too soon. However, the increased volume of enquiries and new instructions reported on Wednesday by the major portals and also agents across the country, shows that the pent up demand that's been promised, might actually materialise.
Even before the easing measures were announced, we had started to see some positive movements in the marketplace. At the end of April we saw two consecutive weeks of growth in both New Instruction and SSTC volumes. This followed a low point where in w/c 12th April we saw only 11% of the 2019 weekly norm number of New Instructions and SSTC triggers.
In w/c 19th April, New Instruction volumes returned to 15% of weekly norms and that increased to 18% in w/c 26th. There was a slight drop last week, but that's to be expected as we were one working day down due to the bank holiday. Despite that, instructions were still at 17% of the weekly norm. Over the same period SSTC's were at 14% and 16% for the last two weeks of April and 15% last week.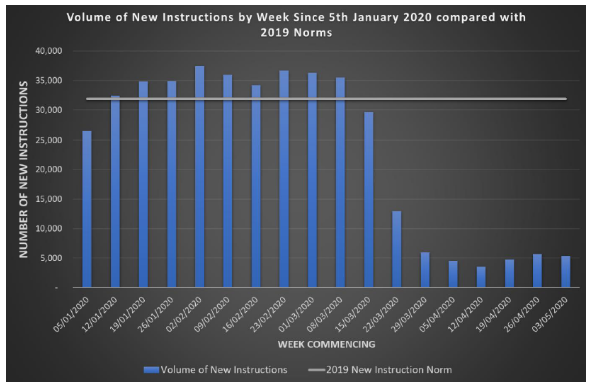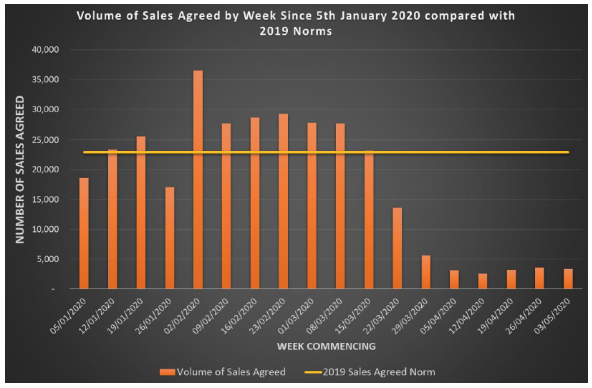 Also, at the end of April, for the first time since early March we saw average asking prices rise above the 2019 norm. This would indicate that higher value properties are starting to be listed.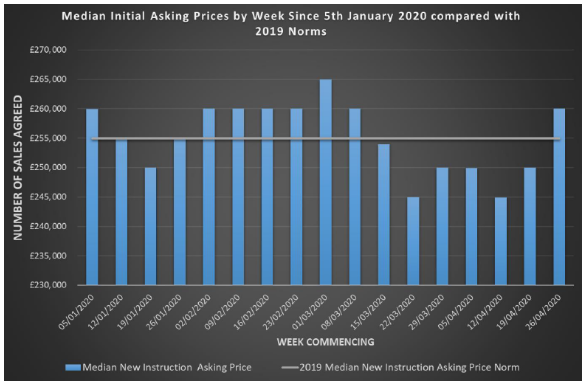 These are hopefully early indications that there will be a robust bounce back now that restrictions have been lifted and guidance is in place for how the various stages of the moving process can take place either remotely or whilst observing social distancing.
It will be really interesting to monitor these figures over the coming weeks to see how the market performs. We would expect to see a spike in New Instructions in the next week or so as vendors who had been waiting for the green light to list their home, bring it to market. However, what happens in the weeks after that is likely to be far more telling as to what we might be able to expect for the coming months.
Follow us on Twitter to get the latest updates from TwentyEA as we track market activity as the market inches out of lockdown.
Agents with 5 or fewer branches can also take advantage of FREE access to our Prospect marketing platform until June 2021. That's over 13 months with no subscription fees – all you will pay for is print and postage on whatever letters or postcards you choose to send. We want to help you keep costs down over the coming months, whilst ensuring that you can continue prospecting in a marketplace where new instructions are likely to be more limited and therefore agent switching will be key to achieving new listings.