After such an unusual year, we turn our attention to the future of the UK property market. What can we expect to see as 2021 progresses, now that the property market is rebounding from the unprecedented circumstances of the pandemic? Here's our forecast for 2021.
Property Supply and Demand in 2021: An Update
In 2021 so far we've seen some extraordinary levels of property demand coupled with a lack of housing supply on the market. This makes it a great time for selling but difficult for buying. If this imbalance of supply vs demand continues UK house prices are likely to rise whilst buyers try to secure the property type they desire with few available options.
But, as lockdown is beginning to ease and the economy becomes more buoyant, have there been any recent changes to property demand and supply?
It's worth noting that March 2020 figures cover some of the first national lockdown period, which began on 23rd March 2020.
2021 Property Demand
As we have discussed at length, recent property demand has been higher than ever. In March 2021 we recorded the highest level of Sales Agreed since our records began in 2009.
Moving on to April, figures are down on March. At first glance this appears to be a decline. However, we have analysed this in more detail and things are not so clear cut. The downturn is caused by the Easter holidays, which our historical data has shown to have a measurable effect on the property market.
To investigate the Easter Holiday Effect further we'd usually compare it to the previous year, but April 2020 was an anomaly. The UK was in the midst of the first lockdown, making a meaningful comparison impossible. The government had stopped property viewings and estate agents were unable to promote new properties. So April 2021 figures would undoubtedly be higher than April 2020, but this tells us nothing other than that the property market is active again.
Instead, we have compared with the corresponding period in 2019 to find:
Easter demand (Sales Agreed) is up 56% on 2019
Easter supply (New Instructions) is up 7% on 2019
This illustrates that the property market is still very buoyant.
2021 Property Supply
Now we have determined that property demand is still high, how do property supply levels affect the market in 2021?
We recently examined the figures to find that UK property stock is extremely low, leading to a lack of choice for buyers. This trend continues, and New Instructions aren't keeping pace with demand levels at the ratios we're used to seeing.
A surge in demand with a lack of supply creates a sellers market. As this continues, we expect to see a rise in house prices. How much house price growth that's expected is unknown, and price rises could be short lived.
Housing Market Predictions for 2021
In such an unprecedented time, it is extremely difficult to make predictions. We can, however, forecast the direction of the UK housing market based on this year's figures so far. Our forecasting suggests:
2021 Property Transactions Forecast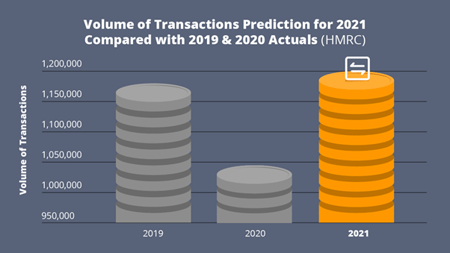 2021 Transactions will rise by around 15% on 2020
Our forecast is around 1.2million
This will also exceed levels in 2019
2021 Sales Agreed Forecast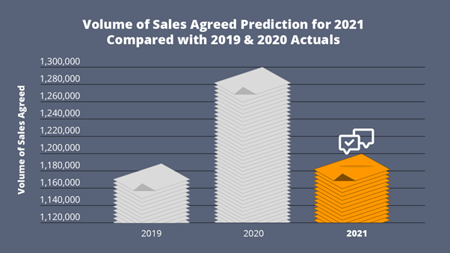 2021 Sales Agreed will fall back from 2020 levels by about 8%
This is still ahead of 2019
Prediction is around 1.2million
In March 2021, we found the greatest demand rise for property priced over £750k, followed by the £350k-£750k price band. Buyers in these price bands stand to gain the most from the Stamp Duty Holiday and are also most likely to be able to find the money to complete on the sale if they miss the cut off point. However, we expect mid to lower priced properties to drive demand as the year progresses. The introduction of a new government backed 95% mortgage guarantee scheme will help current homeowners or first time buyers with just a 5% deposit. This will re-establish demand for property prices in the mid to lower bands moving forwards, bringing the average price down.
So, do we have a Crystal Ball on the 2021 Property Market?
If you're looking to buy or sell a home in 2021, it's wise to keep an eye on the property market forecasts. We have substantial data to back up our forecasts but no, we don't have a crystal ball to show us the future! The key driver for the continuing strength of the housing market is the overall strength of the economy coming out of the pandemic.
We expect to see property price rises, due to the demand and supply imbalance. This in turn underpins the feel-good factor of consumers which drives the economy. But there's a combination of personal budget concerns for those affected by the pandemic financially, a desire for more space for many urban dwellers and a looming shift as workers return to the office at play across the country.
Whether this buoyancy is evenly spread across the UK remains to be seen. Certain sectors and demographic groups have been affected more than others by the pandemic. We recently discussed the unusual situation around the London property market operating like a mirror to the rest of the UK, with a surplus of supply and lack of demand. Changes in circumstances, bringing people back to the capital could have the potential to help shift the imbalance, but this remains to be seen.
We will keep our eye on regional differences in the market as the year progresses. Overall, the outlook is positive for the UK property market in 2021.
We've recently explored the poor performance of property performance in London in comparison to the rest of the UK. Inner London has had relatively higher levels of property stock and an excess of flats with a lack of buyer demand. However, based upon only sales agreed in March it appears that inner London is beginning to win some of these sales back.
Lower property prices in inner London may have influenced the demand levels. Equally, a sense of hope as lockdown lifts and a realisation that workers are likely to return to the city may be influencing purchase decisions. Certainly, there are a series of factors influencing property demand today. We will continue to monitor this with interest and review how these trends progress.
Make sure you download the Q1 2021 edition of our Property & Homemover Report. This provides a comprehensive review of the UK property market, created from the most robust property change sources available.
For more information, or to learn more about our property market insights, then please contact Katy Billany, (Our Executive Director for Estate Agency Services) at katy.billany@twentyea.co.uk.